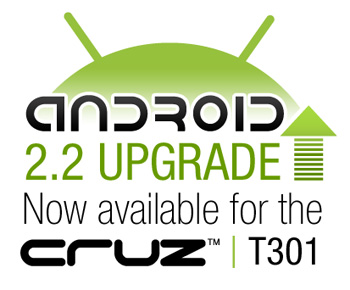 Announcing the immediate availability of Android version 2.2 on all Cruz T301's!
Featuring a slicker interface, faster browsing, and tons of improvements, Android 2.2 provides added functionality and usability to your Cruz T301. The update now ships with all Cruz T301′s boughtly direct from Velocity Micro! Downloadable upgrade also available.
More big things are in the works so stay tuned here for further announcements. For up to the minute updates, subscribe to the Cruz Newzletter. Until then, Happy Cruzin'!